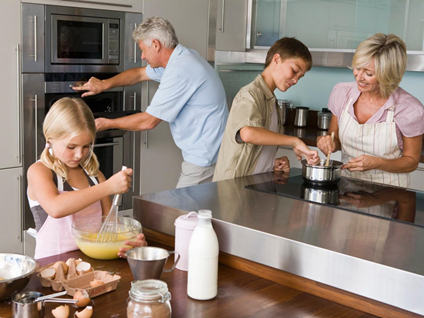 Whether you are planning on having a family, have little munchkins already or are just the "cool aunts and uncles" with many kids running around the house, these easy little tips and tricks will really help to transform your brand new or traditional home.
-Round those counter corners and edges! This is a great way to make sure those little cuties don't bump their heads or anything else. It also saves you a few bumps and bruises also. Other than the fact that it is safer, it's also a timeless style that looks great in any kitchen.
-Surfaces that are easy to clean are key!! You don't want anyone getting sick and you also don't want cleaning to take up all your time. Kids spill, smush, drop and throw things all the time. Quartz is easy to clean and maintain, durable, virtually indestructible, and hygienic.
-Another cool aspect that would make your kitchen a fun place for children would be lower countertop areas. That way they wouldn't have to sit on a high stool, and you won't have to worry while trying to cook and the kids will feel like they are apart of the meal preparations.
-Storage that the kids can reach is a great aspect for a kid-friendly kitchen. If you can dedicate a certain drawer or cabinet to the kids for their plates, bowels, utensils, cups and even some favorite snacks then they will be able to obtain these items safely and easily.
By Nicole Filmalter